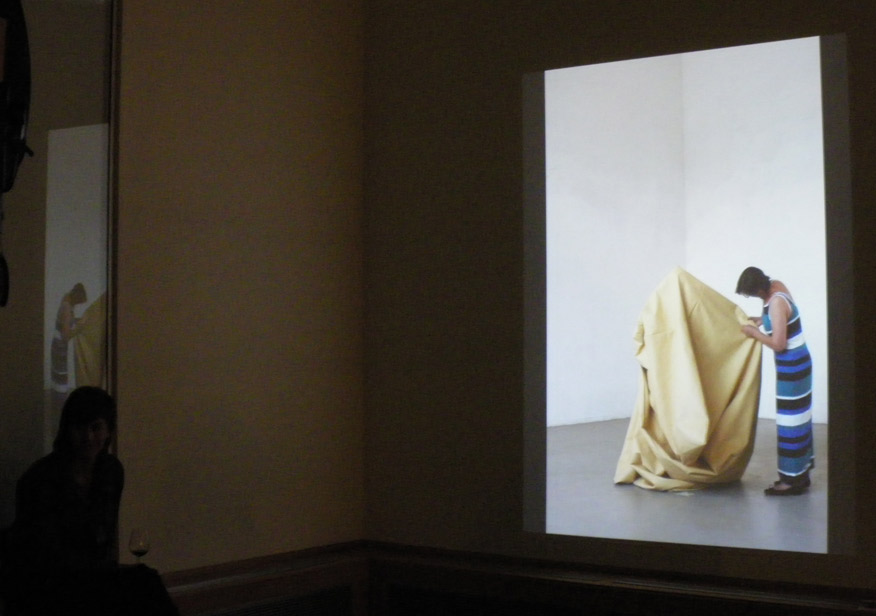 'Instruction.Sculptor.Sculpture' 2011 (original title: 'OnePiece Remake')
video HD straight widescreen, shot with tilted camera, stereo sound, duration 12 minutes, loop.
performance & recordings took place in Projectzaal Noord of the Rijksakademie Amsterdam on 14. June 2011

performance video and performance, concept and execution in collaboration with Renée Kool
for the exhibition 'Kijker in Beeld' in Pulchri Studios, Den Haag 2011 curated by Sya van 't Vlie'
with Renée Kool as maker, me as subject (in the yellow 'OnePiece' pleather volume) and camera, light and sound by Erik Weeda

Together, Arink and Kool made this work, in which control and release in relation to the artistic
process are central. In this video performance, you see a maker who manipulates and shapes a body-sized volume of pleather (artificial leather),
while a seemingly 'disembodied' voice gives directions. Slowly, in the pleather volume, physical forms
appear and disappear, glimpses of an enveloped body. In the volume, sculptor Karin Arink is present,
instructing Renée Kool and directing her sculpting. Arink does not see anything. Renée Kool responds
to the instructions. As agreed, she does not speak back; she can therefore not adjust Arink in creating the sculptural work.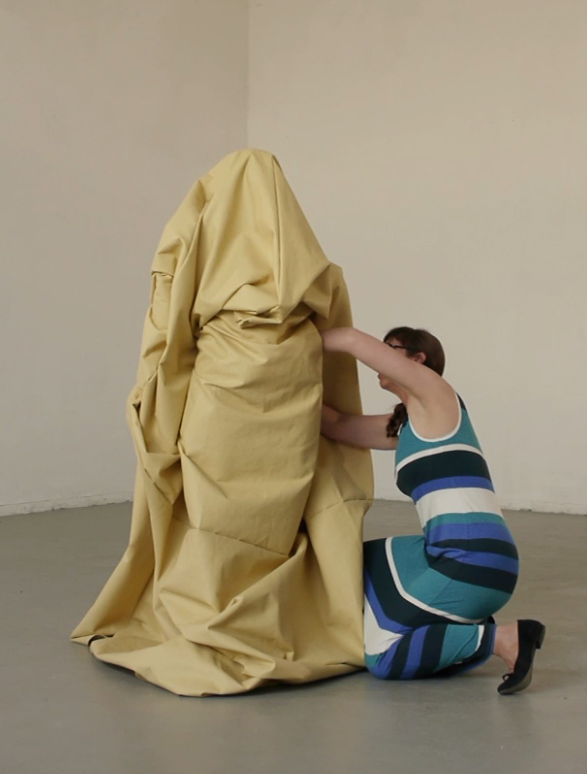 screenshot of video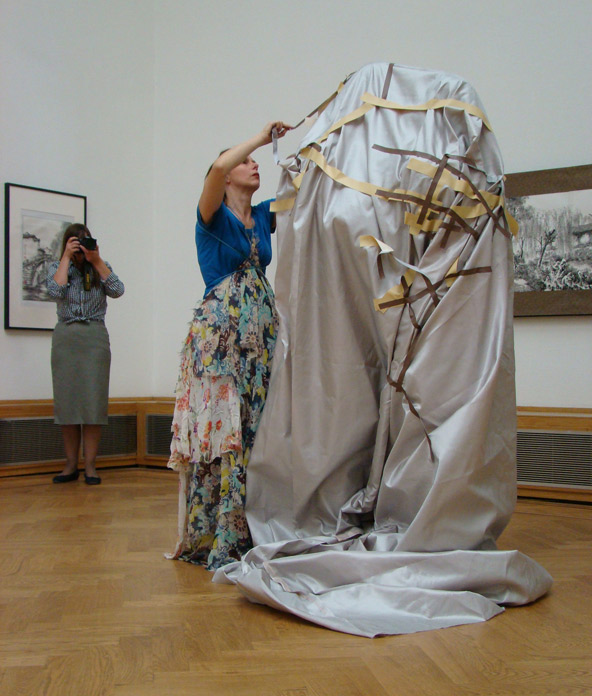 as live event, Renée Kool and me sold the performance 'OnePiece Remake #2' as wedding gift to a soon to be married couple,
Renée Kool in the role of photographer, Jessica van Deursen and Bianca den Breejen in the role of assistent, and me in the role of maker

another expose piece: 'nike' 1992 /
another collaborative performance piece 'Stories To Tell Each Other' 2010 / '...abordons un sujet délicat' 2018 (collaboration with Renée Kool for ARS LONGA VITA BREVIS in Rijksmuseum Twenthe, on until 2021)