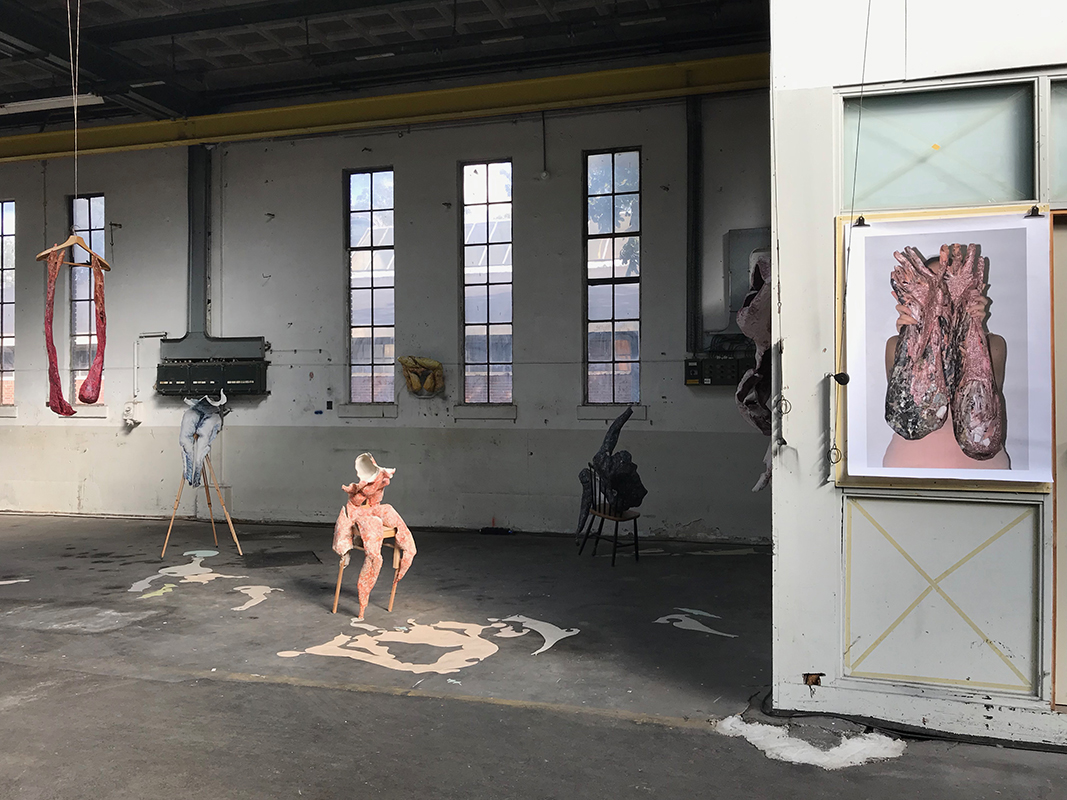 'VerteerWezens' 2017-2019
here the installation for BIG ART in Zaanstad 2019
a selection of various VerteerWezens (2017-2019), one photo work ('behind skins and stones' 2019) and cut vinyl floor elements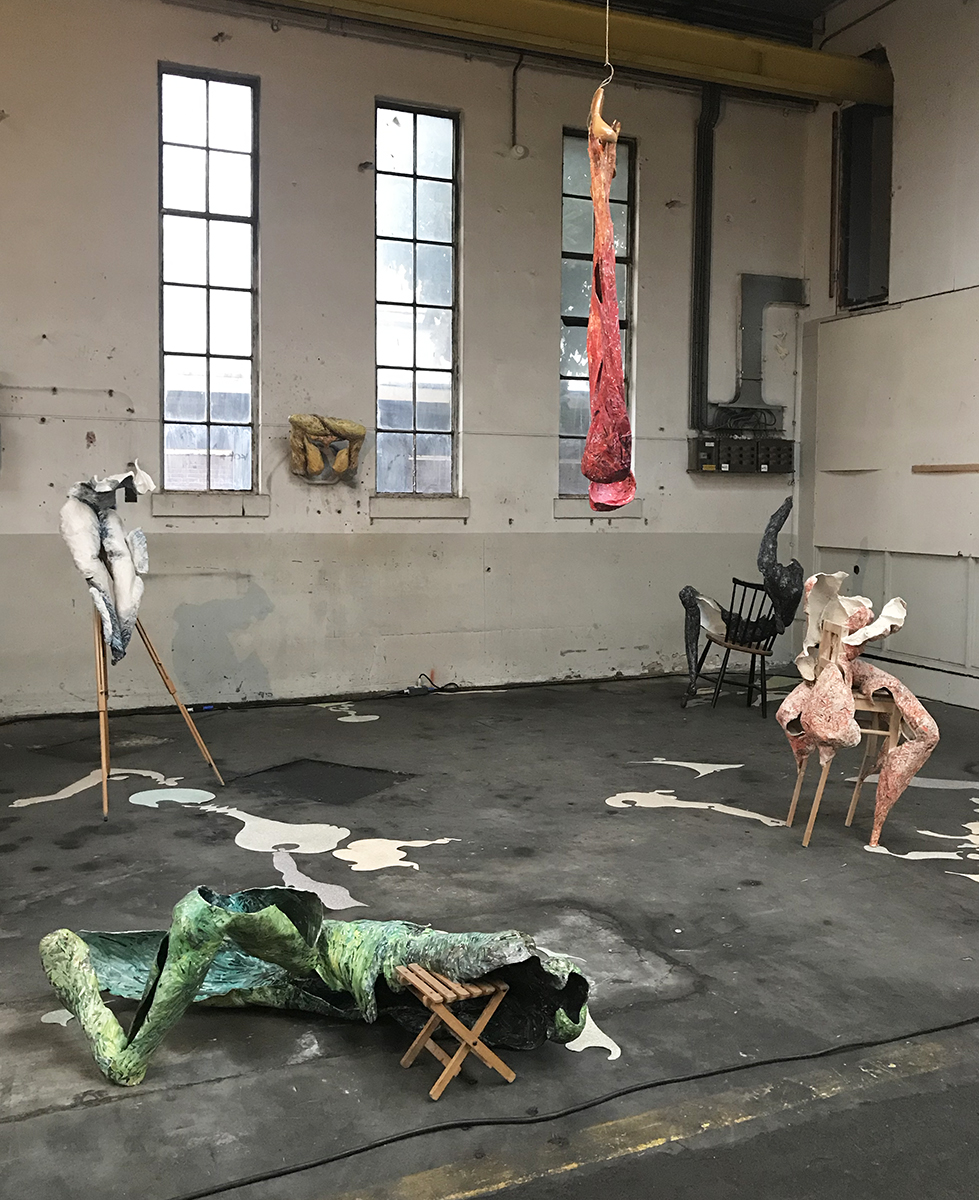 My sculptures never have been objects to me; they are intermediaries between an aspect of me and the outside world, the viewer. My visual method is as I have been doing for years: I focus on a core of experience, and on the physical 'affect-rich' responses I have to this experience and the concepts related to it. By materializing these, I depict different 'states of self'.
'VerteerWezens' is an ongoing series of spatial objects in papier-mâché, started in 2017. The title can be roughly translated as 'digested-beings'. In each work, a rejected object or utensil is combined with aluminium modelling mesh, cardboard and/or other materials. This is covered with a layer of papier maché made from shredded papers, magazines, waste paper. In this way, used materials are "digested" by turning them into creatures/beings.
By photographing myself behind/with these sculptures, the relation between the affect-rich object and my concrete physical body becomes clear.
The series 'VerteerWezens' is ongoing, and so are the related photo works.
other 'VerteerWezens' exhibitions: 'VerteerWezens in Mirrors of Time' in Castle d'Asprémont-Lynden Oud-Rekem Belgium, curated by Annemie van Laethem and Eric Roux with a new selection of VerteerWezens > publication / 'VerteerWezens (handed down, revalued)' solo exhibition in De Anningahof (until October 2023) /
all 'VerteerWezen' works: 'VerteerWezen 1 (crouching orange)' 2017 / 'VerteerWezen 2 (standing blue)' 2018 / 'VerteerWezen 3 (reclining black)' 2017 / 'VerteerWezen 4 (lying greens)' 2018 / 'VerteerWezen 5 (red arms)' 2018 / 'VerteerWezen 6 (cowering in suitcase)' 2020 / 'VerteerWezen 7 (lilac shredded)' 2019 / 'VerteerWezen 8 (red DenkRaum)' 2019 / 'VerteerWezen 9 (skins and stones)' 2019 / 'VerteerWezen 10 (in yellow arms)' 2019 / 'VerteerWezen 11 (protest&berusting)' 2020 / 'VerteerWezen 12 (growing teeth)' 2020 / 'VerteerWezen 13 (carrying sleigh)' 2020-2023 / 'VerteerWezen 14 (embrace rejection)' 1984-2021 / 'AAN-balance together' 2021 / 'VerteerWezen 15 (retrieved arms)' 2020-2022 / 'VerteerWezen 16 (white shield) 2021-2022 / 'VerteerWezen 17 (open up - remade)' 2003-2023 / 'VerteerWezen 18 (bird cover)' 1977- / 'VerteerWezen 19 (old pain) 1984- / 'VerteerWezen 20 (snowwhite revisited)' 2022-2023 /
all 'VerteerWezen' photo works: 'DenkRaum' 2019 / 'behind skins and stones' 2019 / 'behind red arms' 2020 / 'behind shredded lilac' 2019 / 'embracing rejection' 2021 / 'behind arms' 2022 / 'hiding behind witheid (whiteness)' 2022 / 'GreenDressFun' 2021-2023 /
other installation works: 'inner space' 1996 (porcelain fragments) / 'bed satin tangle' 2005 (bed satin elements) / 'Manifold mumbag & fragments of the white visions' (bed satin, plaster, spoken text) / 'fragmented body double' 2014 (textile, Collectie Opdracht for Nederlands Textielmuseum) /
other carrier works: 'blindfold' 1992 / 'my neck my back curve silently' 1993 / 'wringing' 1994 / 'revolving in this sheath of (im)possibilities' 2011 (ceramic)/