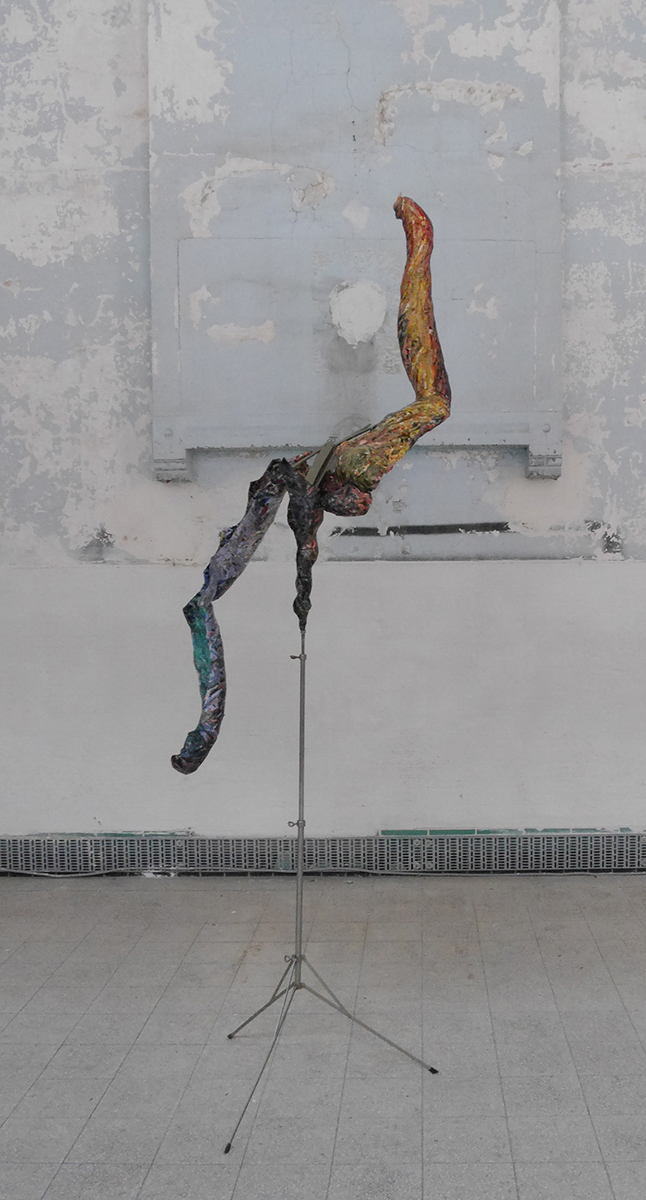 'VerteerWezen 11 (protest & berusting)' 2020
metal music stand, aluminium mesh, papier maché
about 195 x 40 x 40 cm
one arm raised in protest, one hand curved in acceptance of defeat
relating to these times of anger
here exhibited as one of the VerteerWezens in Mirrors of Time 2020
curated by Annemie van Laethem, Eric Roux and Mat Verberkt in Castel d'Asprémont-Lynden, Oud Rekem, B 2020
'VerteerWezens' is an ongoing series of spatial objects in papier-mâché, started in 2017. The title can be roughly translated as 'digested-beings'. In each work, a rejected object or utensil from either my home or my studio is combined with aluminium modelling mesh, cardboard and/or other materials. This is often covered with a layer of papier maché made from shredded left-over papers, magazines, waste paper. In this way, used objects, materials and older art works are "digested" by turning them into creatures/beings.
By photographing myself behind/with these sculptures, the relation between the affect-rich object and my concrete physical body becomes clear.
The series 'VerteerWezens' is ongoing, and so are the related photo works.
all 'VerteerWezen' works: 'VerteerWezen 1 (crouching orange)' 2017 / 'VerteerWezen 2 (standing blue)' 2018 / 'VerteerWezen 3 (reclining black)' 2017 / 'VerteerWezen 4 (lying greens)' 2018 / 'VerteerWezen 5 (red arms)' 2018 / 'VerteerWezen 6 (cowering in suitcase)' 2020 / 'VerteerWezen 7 (lilac shredded)' 2019 / 'VerteerWezen 8 (red DenkRaum)' 2019 / 'VerteerWezen 9 (skins and stones)' 2019 / 'VerteerWezen 10 (in yellow arms)' 2019 / 'VerteerWezen 11 (protest&berusting)' 2020 / 'VerteerWezen 12 (growing teeth)' 2020 / 'VerteerWezen 13 (carrying sleigh)' 2020-2023 / 'VerteerWezen 14 (embrace rejection)' 1984-2021 / 'AAN-balance together' 2021 / 'VerteerWezen 15 (retrieved arms)' 2020-2022 / 'VerteerWezen 16 (white shield)' 2021-2022 / 'VerteerWezen 17 (open up - remade)' 2003-2023 / 'VerteerWezen 18 (bird cover)' 1977- / 'VerteerWezen 19 (old pain) 1984- / 'VerteerWezen 20 (snowwhite revisited)' 2022-2023 /
all 'VerteerWezen' photo works: 'DenkRaum' 2019 / 'behind skins and stones' 2019 / 'behind red arms' 2020 / 'behind shredded lilac' 2019 / 'embracing rejection' 2021 / 'behind arms' 2022 / 'hiding behind witheid (whiteness)' 2022 / 'GreenDressFun' 2021-2023
other tissues & elements works: 'omloop' 1998 (silk) / 'on&on&on&on 1996 (porcelain) / 'wikkel 1997 (satin) / 'VerteerWezen 5 (red arms)' 2018 /