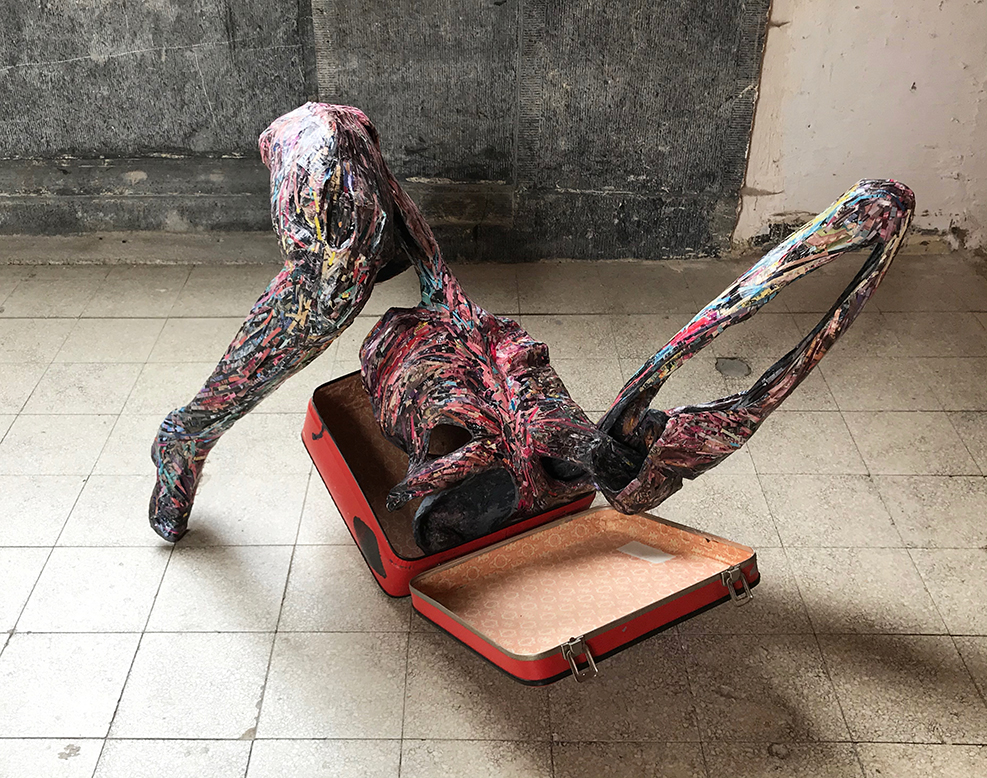 'VerteerWezen 6 (cowering in suitcase)' 2020
red suitcase, cardboard, papier maché
here in the exhibition Mirrors of Time 2020
curated by Annemie van Laethem, Eric Roux and Mat Verberkt in Castel d'Asprémont-Lynden, Oud Rekem, B 2020
'VerteerWezens' is an ongoing series of spatial objects in papier-mâché, started in 2017. The title can be roughly translated as 'digested-beings'. In each work, a rejected object or utensil from either my home or my studio is combined with aluminium modelling mesh, cardboard and/or other materials. This is often covered with a layer of papier maché made from shredded left-over papers, magazines, waste paper. In this way, used materials and older art works are "digested" by turning them into creatures/beings.
By photographing myself behind/with these sculptures, the relation between the affect-rich object and my concrete physical body becomes clear.
The series of VerteerWezens is ongoing, and so are the related photo works.
all VerteerWezen works: 'VerteerWezen 1 (crouching orange)' 2017 / 'VerteerWezen 2 (standing blue)' 2018 / 'VerteerWezen 3 (reclining black)' 2017 / 'VerteerWezen 4 (lying greens)' 2018 / 'VerteerWezen 5 (red arms)' 2018 / 'VerteerWezen 6 (cowering in suitcase)' 2020 / 'VerteerWezen 7 (lilac shredded)' 2019 / 'VerteerWezen 8 (red DenkRaum)' 2019 / 'VerteerWezen 9 (skins and stones)' 2019 / 'VerteerWezen 10 (in yellow arms)' 2019 / 'VerteerWezen 11 (protest&berusting)' 2020 / 'VerteerWezen 12 (growing teeth)' 2020 / 'VerteerWezen 13 (carrying sleigh)' / 'VerteerWezen 14 (embrace rejection)' / 'VerteerWezen 15 (retrieved arms)' 2020-2022 / 'VerteerWezen 16 (white shield) 2021-2022 / 'VerteerWezen 17 (open up - remade)' 2003-2021 /
all VerteerWezen photo works: 'DenkRaum' 2019 / 'behind skins and stones' 2019 / 'behind red arms' 2020 / 'behind shredded lilac' 2019 / 'embracing rejection' 2021 / 'behind arms' 2022 / 'hiding behind whiteness' 2022 /
other carrier works: 'blindfold' 1992 / 'orante' 1995 (wood) / '[pude](/Pudeklei' 1994 (ceramic) / /