projects by Foundation B.a.d
Foundation B.a.d is a non-hierarchic, self-regulated, non-funded artists' initiative based in Rotterdam, NL.
The main aim of Foundation B.a.d is to provide space: permanent studios for its members, projects spaces, temporary guest studios and residencies. Several communal spaces are used by members and guests for artistic and social activities, allowing for an exchange of ideas.
Foundation B.a.d consists of 11 members, many of whom graduated around 1990 from the Willem de Kooning Academy of Fine Arts, plus - since 2012 - about 10 younger members. I have been a member since 1993. Based on our individual activity as artists, we collaborate on projects related to our identity and aim as a group (and on other site-specific situations). In this collective practice we combine disciplines such as photography, graphic and interactive design, architecture and public art, hosting, organising and teaching. Hospitality and the exchange of ideas are central issues in these projects. Since 2012 the emphasis is more on providing space for exhibitions and projects in our central hall, our 'B.a.d Lab', ao the series of the 'B.a.d Lab: Test Results' co-curated by me in 2018. The collective projects provide the necessary energy for the maintenance of a studio complex - and vice versa! - and both question and form the artistic intentions on which the foundation is based. > for more info see www.foundationbad.nl
2001-2012 B.a.d To The Future! project to maintain our place, located in a former squat, to renovate and therefore legalise our situation. We did an extensive reseaech into other former squats and their legalisation process and also research architecturally and structurally what we could do to maintain our 'vrijplaats' for the future. A long process ensued leading to the legalisation and renovation by Vestia, safeguarding this place for the next 25 years.
2001-> SWAFB003 developing the inner garden next to the B.a.d building in collaboration with the neighbours
2001 'Oasism II, a proposal for Huis ten Bosch', project by the B.a.d Foundation [research of "oasism" as counterpart of nomadism, B.a.d and neighbours as location] : 2nd in the exhibition series 'My Home is Yours, Your Home is Mine', Tokyo Opera City Art Gallery, Tokyo, Japan curators: Hou Janru, Jerome Sans, Mami Kataoka 2000 'Oasism I', project by the B.a.d Foundation [research of oasism as counterpart of nomadism, presentation of 10 years of receiving of guests and social exchange in B.a.d ] : 1st in the exhibition series 'My Home is Yours, Your Home is Mine', Samsung Museum, Seoul, Korea, curators: Hou Janru, Jerome Sans, Ahn Soyeon
2000 'Democracy!', the project 'Being There'; by the B.a.d Foundation, in the Royal College of Art Galleries, London, UK : 7 gifts voor the communal spaces of 7 artists' groups in London
1999 'Bad Weather';, openingsevent by B.a.d Enterprises, for September in Rotterdam and TENT., Witte de Withstraat, Rotterdam, NL: opening of a space by 'blocking' the entrance by pouring water, creating an umbrella representing all cultural institutes of Rotterdam, opening the space to the street by a board walk, thus also creating a hanging area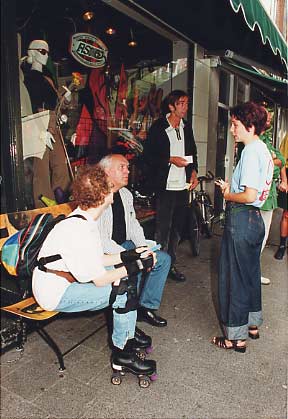 doing PR work during the event
Bad Weather
1996 "My House : Your Home'
1995 'Binnenruimten', by the B.a.d Foundation, in a series of exhibitions of artists' groups.The studio being the 'common ground' for B.a.d, we made an installation in which each member showed a video presenting his/her views on 'the studio'. I made the text-based video ['Handelingen I, II, III'](/Handelingen), and co-installed one of the installations (there were 7 different ones by different members of B.a.d)