projects by Foundation B.a.d
Foundation B.a.d is a non-hierarchic, self-regulated, non-funded artists' intiative
based in Rotterdam, NL.
The main aim of Foundation B.a.d is to provide space: permanent studios for
its members, projects spaces, temporary guest studios and residencies. Several
communal spaces are used by members and guests for artistic and social activities,
allowing for an exchange of ideas.
Foundation B.a.d consists now of 23 members, the founders (like me) graduated around 1990 from the Willem
de Kooning Academy of Fine Arts Rotterdam. Now, about 2/3 of the current members are younger members graduated from various art schools. Based on our individual activity as artists we collaborate on projects related to our identity and aims as a group (and on other site-specific situations).
In out previous collective projects, we combined disciplines such as photography, graphic and interactive design, architecture and public art, hosting, organising and teaching.
Hospitality and the exchange of ideas are central issues in these projects.
Since 2012 the emphasis is more on providing space for exhibitions and projects in our central hall, our 'B.a.d Lab', ao the series of the 'B.a.d Lab: Test Results' co-curated by me in 2018.
Since 2020 we also make exhibitions in the window cases along the Arendsweg, B.a.d INSIDE OUT for you. These are mostly curated by Janine Schrijver, together with other B.a.d members.
The collective projects and maintenance provide the necessary energy for the maintenance of
a studio complex - and vice versa! - and both question and form the artistic intentions on which the foundation is based. > for more info see the website of Foundation B.a.d
2022
South Explorer April 2022
Groot Rotterdams Atelier Weekend September 2022 - with in B.a.d INSIDE OUT for you an overview of 30 years B.a.d in Talingstraat 5
2021
South Explorer May 2021
Groot Rotterdams Atelier Weekend September 2021
SouthExplorer November: We Are All Guests #6 with international guest artists from B.a.d, Paviljoen aan het Water, and NAC.
2020
South Explorer June 2020: due to corona, the April South Explorer was [postponed until June. We exhibite work in our new B.a.d INSIDE OUT for you - window cases in 19 of the windows along the Arendsweg. We have been orgazing exhibition there regularly since 2020. Realized with help of CBK Rotterdam.
Groot Rotterdams Atelier Weekend October 2020 - very first edition of open studios all over Rotterdam
South Explorer November 2020
2019
South Explorer April 2019: We Are All Guests #2: The Freezer 2019; with artists Tom, The Mak, Kate Genever, Stijn Wybouw and Alex Phillips. Also featuring MC Nelson

South Explorer November 2019: We Are All Guests #3: With Clémence Mimault & Daniel Mitelberg - members of the collective Chuglu, Mahatsanga Le Dantec, Renate de Bonis and Daniel de Paula.

exhibition CO/LAB - together with a selection of Rotterdam artist-run spaces and with LA artist-run spaces, we created a collaborative group exhibition in Torrance Art Museum, LA.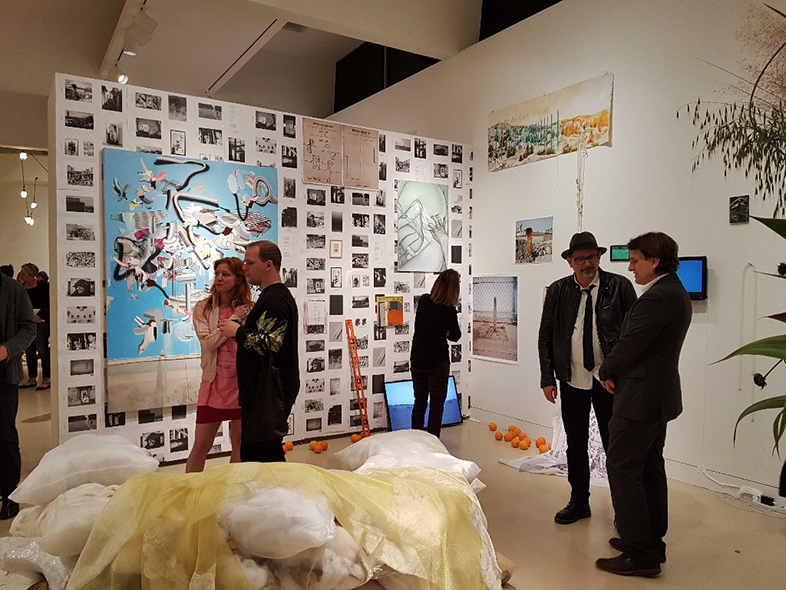 2018
B.a.d Lab: Test Results
I was co-curator - with Koes Staassen and Anique Weve - of these exhibitions in the hall of Stichting B.a.d
• B.a.d Lab: Test Results #1 (during South Explorer, with Jan Bokma en Hilde Onis), here the invite made by Koes and Anique: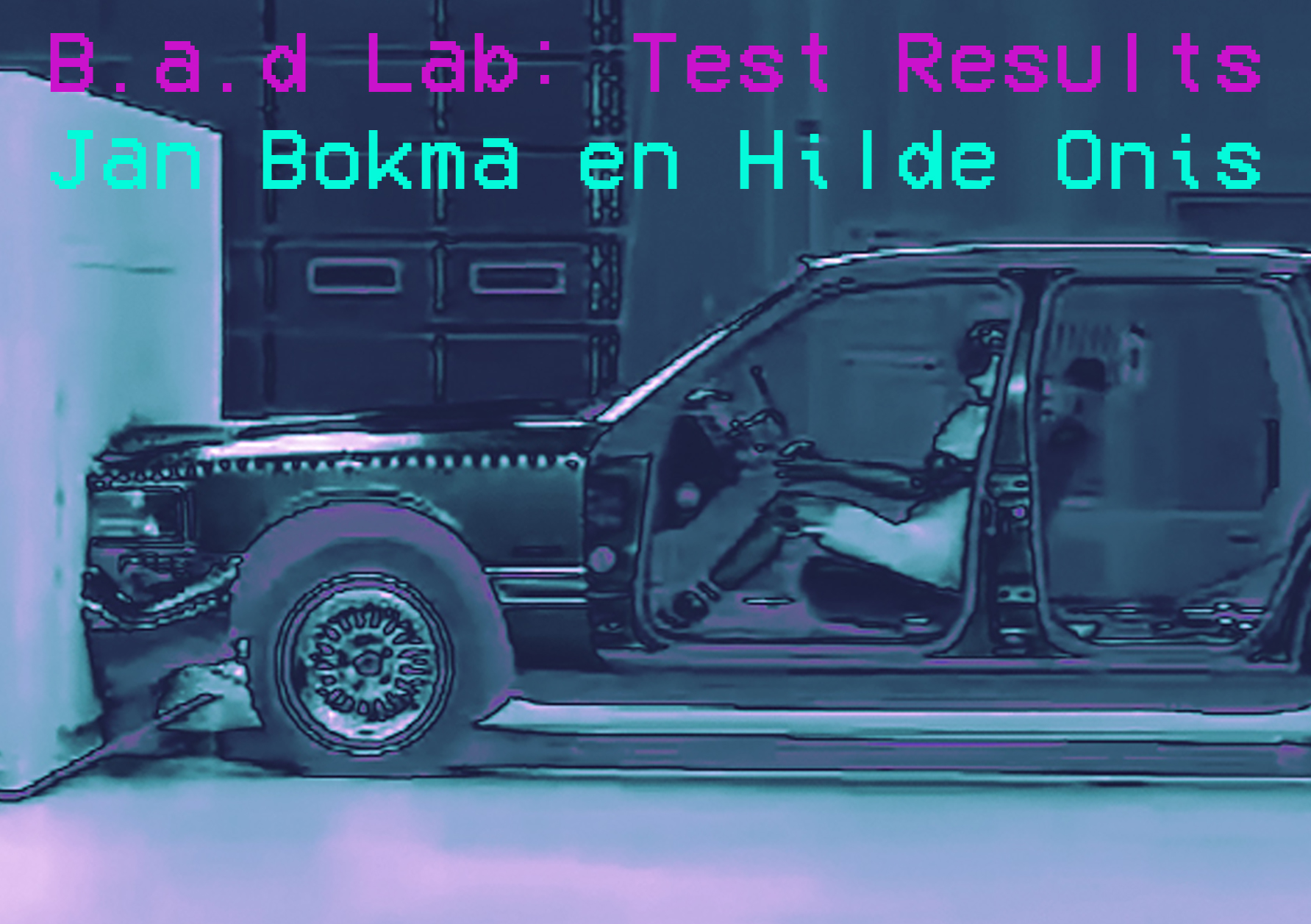 • B.a.d Lab: Test Results #2 (with Raquel Vermunt, Marco Douma and Niki van Strien)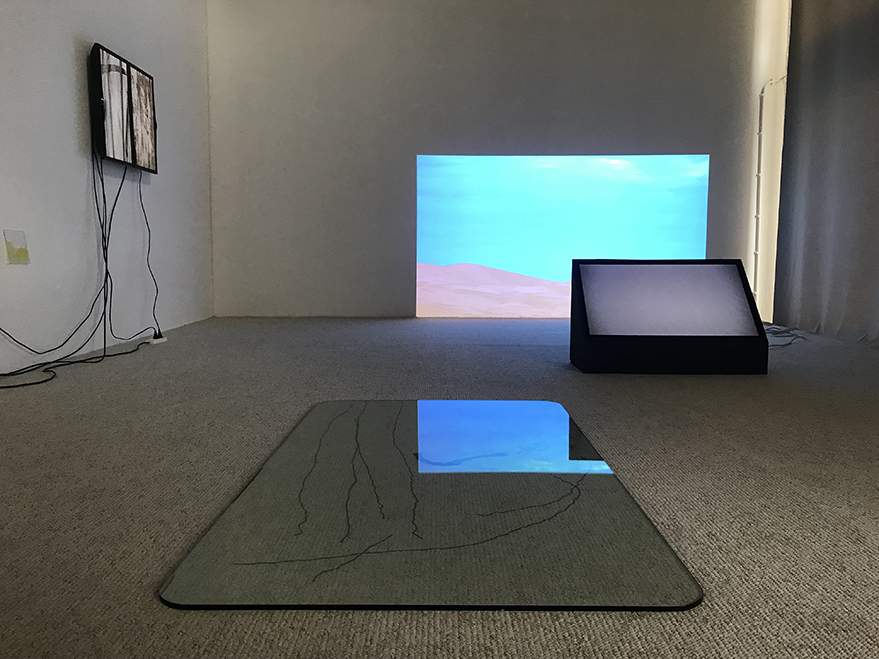 • B.a.d Lab: Test Results #3 (with Kamiel Verschuren, Quinda Verheul, Willem de Haan)
• B.a.d Lab: Test Results #4 (with Laurien Dumbar, Barbara Helmer, Romée van Oers)
And for the November South Explorer: We Are All Guests #1. With Marc Quer, Ludovic Lacreuse, Francine Abada, Yasmim Flores, Angelo Ursini, Carmen José. In collaboration with State of the City#6_International Residency Paviljoen aan het Water and Zimmerfrei#1_guesthouse NAC foundation, we proudly presented these international guest artists. In the central hall of our building, they presented recent work: an exciting selection of contemporary art – from performance to spatial drawings. Sunday 15.00 h. workshop for children by Yasmim Flores and Carmen José.
We continued the series of B.a.d Nights.
2017
SouthExplorer: B.a.d TOUR-ISM
press text (written by me): "Hello everyone. My name is XY and I am your guide today." In this edition of South Explorer, (guest) artists and residents of B.a.d are your guides, providing their insights into our building and garden. Personal narratives, individual perspectives and the building's subjective and socially significant places will turn each B.a.d Tour into a unique experience. Be our guest and explore new terrains!
With Karin Arink, Kamiel Verschuren, Marijke Appelman, Lisa Kuglitsch, Helmut Smits, Frank Bruggeman, e.v.a
We continued the series of B.a.d Nights.
2015-2016 various events thanks to Mondriaanfonds Bijdrage Kunstenaarsinitiatieven 2015: a.o. Doing Sounding Exchanging Thinking: The Auditory Experience of the Social/, symposium curated by thickear, London.
And a series of 'B.a.d Nights' to see each others' artistic/studio practices, which we continue to do until this day, here we are in my studio: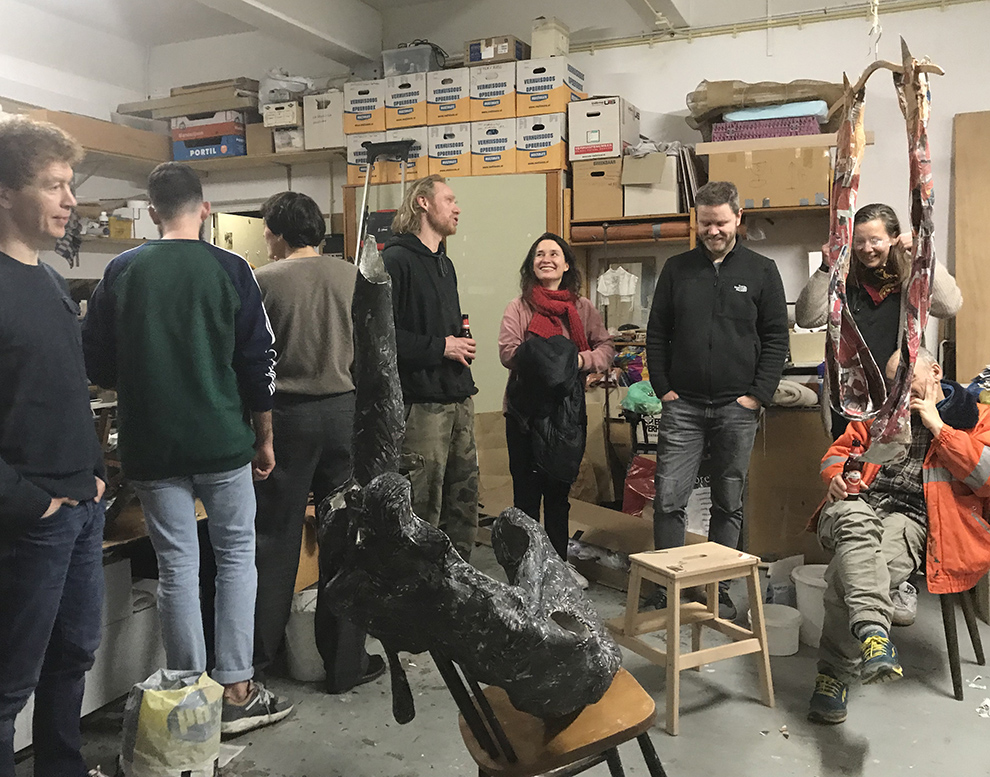 These encounters led to the exhibition '3D Zine' (June 2016) where each of us contributed a 'page' to a three-dimensional 'zine' during Charlois Speciaal 2016.
2013 'B.a.d To The Future Now!' event to celebrate the legalisation and renovation of the building in Charlois and the start of a new B.a.d - opening with lecture series, party with artists' contributions, exhibition 'Site Specific Squat' by B.a.d guest Heena Kim with a.o. my works in situ
2001- 2012 'B.a.d To The Future!' legalising and renovating the former school that is now the B.a.d building for the upcoming 25 years, with help of our Advisory Board (who helped finding the legal owner and helped out lobby to maintain B.a.d as a space for artists)
2001- 'SWAFB003' developing the inner garden next to the B.a.d building
in collaboration with the neighbours
2001 'Oasism II', a proposal for Huis ten Bosch, project
by the B.a.d Foundation [research of "oasism" as counterpart of nomadism,
B.a.d and neighbours as location] : 2nd in the exhibition series 'My Home is
Yours, Your Home is Mine', Tokyo Opera City Art Gallery, Tokyo, Japan
curators: Hou Janru, Jerome Sans, Mami Kataoka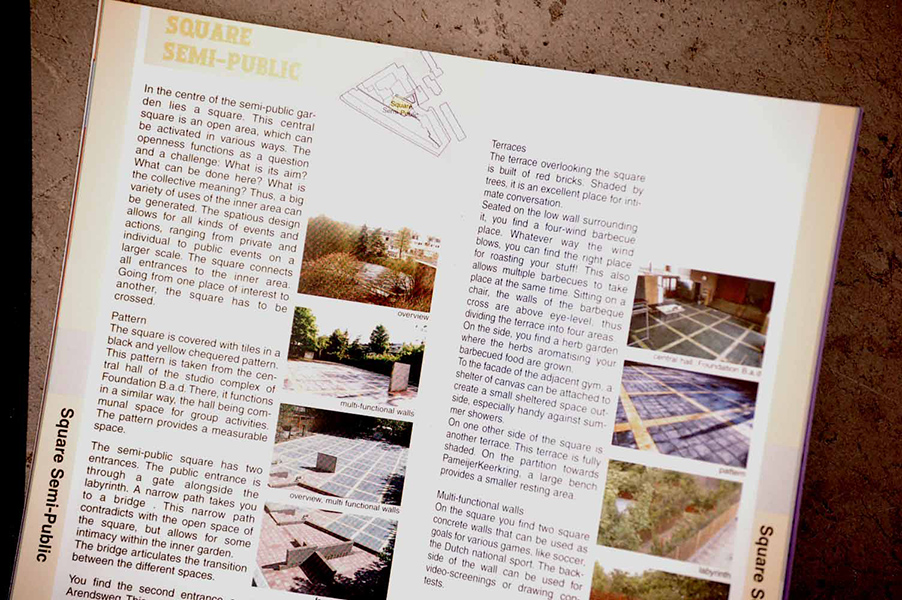 2000 'Oasism I', project by the B.a.d Foundation
[research of oasism as counterpart of nomadism, presentation of 10 years of
receiving of guests and social exchange in B.a.d ] : 1st in the exhibition series
'My Home is Yours, Your Home is Mine', Samsung Museum, Seoul, Korea, curators:
Hou Janru, Jerome Sans, Ahn Soyeon
see also the Dutch text 'Oasisme' 2000
2000 'Democracy!', the project 'Being There';
by the B.a.d Foundation, in the Royal College of Art Galleries, London, UK :
7 gifts voor the communal spaces of 7 artists' groups in London
1999 'Bad Weather';, openingsevent by B.a.d Enterprises, for
September in Rotterdam and TENT., Witte de Withstraat, Rotterdam, NL: opening
of a space by 'blocking' the entrance by pouring water, creating an
umbrella representing all cultural institutes of Rotterdam, opening the space
to the street by a board walk, thus also creating a hanging out area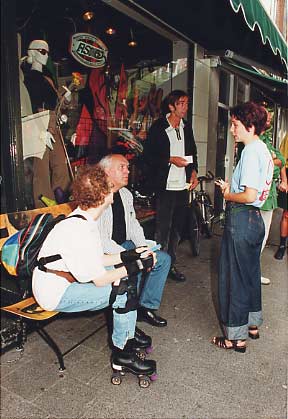 1996 'My House : Your Home', large project for Manifesta 1. Rotterdam (1996),
where Foundation B.a.d (connected via me and Kamiel Verschuren) was one of the many activities of Rotterdam-based artist group NEsTWORK (initiated by Jeanne van Heeswijk). In Foundation B.a.d,
each member of B.a.d hosted 1 of the artists participating in Manifesta 1. giving up our studios
for the duration of the installing (and the summer after). Hosting as a form of encounter, literally
creating space for other artists, we gave up our studios and served breakfast and cleaned toilets and showers for artists like Joseph Grigely, Jason Coburn, …
The 'houses' or dwellings we made represented our ideas of the artist studio and of hospitality, and took imaginative forms: some of which were showcased in articles like this one in Elle Wonen.
1995 'Binnenruimten', by the B.a.d Foundation, in a series
of exhibitions of artists' groups.The studio being the 'common ground'
for B.a.d, we did a video editing course and made individual videos - and then made an installation in which each member showed a video presenting his/her views on 'the studio'.
I made the text-based video 'Handelingen I, II, III', and co-installed one of the installations (there were 7 different ones by different members of B.a.d)