dance
from 1987, while studying at the Willem de Kooning Academy (as it's now called) in Rotterdam,
i started taking dance improv classes.
dance improvisation is a specific tradition in dancing. i am no expert, but to put it simply,
in dance improv the experience and inner feeling of movement is central, as opposed to
for instance 'ballet' in which exterior shape is essential.
methods are named after great dancers/choreographers like Laban, Bausch, Cunningham, etc.
and often yoga-like exercises are used as warming-up
exercises start out simple: "move in a round way" / "in a jerky way" / "let your body take in
as much space as you can" / "… as little space" / "move over the ground", etc.
quickly, i became fascinated by the ways in which taking on postures or copying
styles of movement influence the way you feel about your body.
and by the effect that these movements in turn can have on you when you watch them,
even the lifting of a finger or toe can become a strong emotional expression
of ways of being.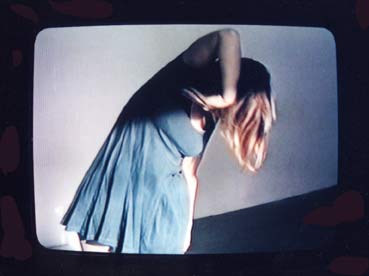 also shown in the publication 'Inlet - such stuff as thoughts are made of' 1996
the Dance Academy of Rotterdam is known for its contemporary dance, and many
dance students could be found who were willing to teach. so, after taking classes at the SKVR, my friends
and me asked people to help us to work on our own pieces. our coaches were dancers/teachers Carla van der Putten,
Dirkje Veltman, Valentina Cabro, … and dancer and choreographer Valentina Cabro.
1993 'Murw speelt Geplette Smaak', text-based absurdist
dance/theatre piece directed by Liorah Hoek, in which I was one of the 7 performers
also performed at Rijksakademie Amsterdam 1993
1993/1994: 'Oefening in Hardheid' dance/text duet, concept based on 'Het Dikke Schrift' (Le Grand Cahier, also known as The Notebook) by Agotha Kristof, collaboration with with Liorah Hoek, for which i designed the costumes (in collaboration with Jacqueline Rensen)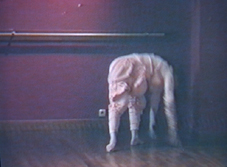 1997 'KLAM', dance/theatre piece with Arthur Clemens, Liorah
Hoek, Mio van der Lijn: danced, co-choreographed and co-designed the costumes
1997-1998 incidental solo dance improv (see pictures)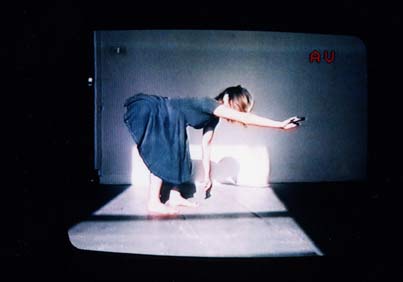 1998 'Crash Landing Lisboa': It's about time', improvisation
project by Meg Stuart & co in Lisbon, P: contributed costumes (leading to a.o. 'slit' 1997 - photo work) / actions / textimprovs.
after my stay in Japan
1998-1999 and especially since i had 2 small kids i stopped practising dance improv (unfortunately..?)
2011 'He Who Travels / Traverse' collaboration with artist/choreographer Piet Rogie contemporary dance installation piece with musicians, dancers and artists a.o. Leopold Emmen - in GEMAK The Hague and the Rotterdamse Schouwburg, a.o. 'EntwinedFamily' 2007