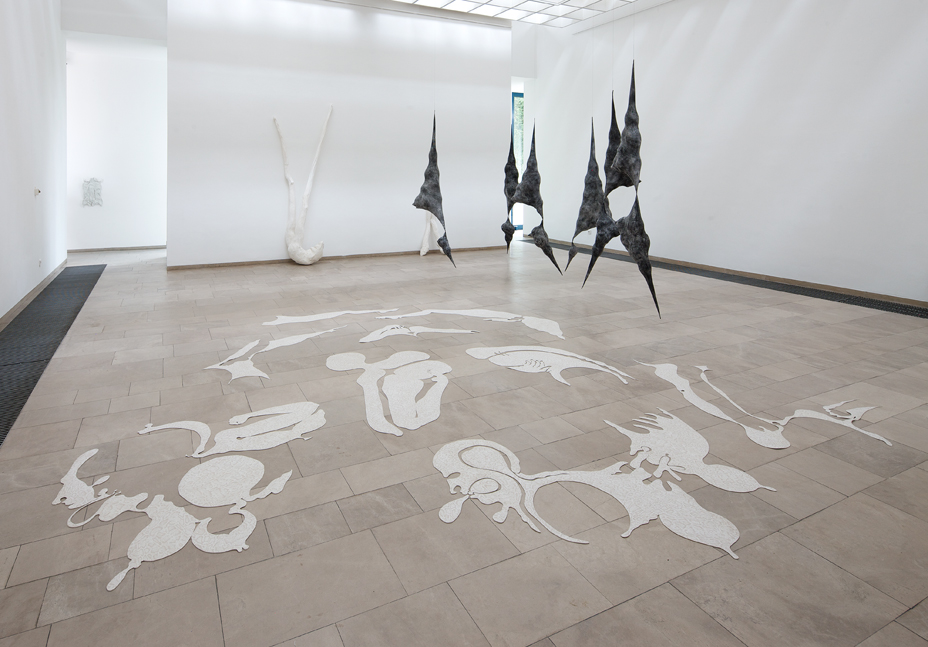 'Cirkel Vrouw in Cirkel Veld' 2010-
cut vinyl fragmented installation, shape and anti-shape combined 6 x 7 meter
this version for the Neue Halle of the Gerhard Marcks Haus Bremen, in the 2011 'duo exhibition Kleider machen Kunst
with on the right Reinhold Engberding's work.
photo: copyright Rüdiger Lubricht, Worpswede
exhibition and catalog made possible with help from the Gerhard Marcks Haus and Mitglieder,
the Mondriaanfoundation, stichting Stokroos and Tijlfonds (Prins Berhard Cultuurfonds).
'CirkelVrouw in CirkelVeld' has been exhibited in various forms in a.o. my solo in Club Solo, 2016 and in Galerie RAM.
other work in this exhibition: 'paar (2)' 2011 / in the far left: 'shield II' 2011/
other 'claiming space' cut vinyl works: PoortVrouw 2002 / 'you inside of me inside of you' 2005-2006 / 'FeltFeld' 2013 /