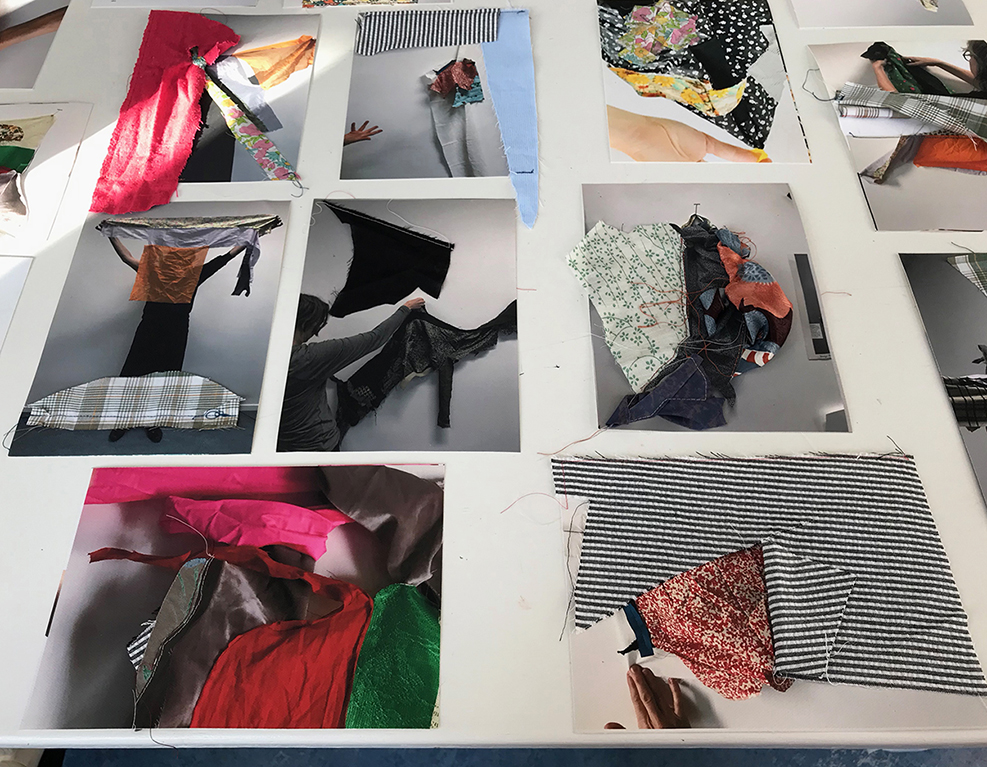 'AAN (ANNA)' 2020
Julie Muller & Karin Arink,
photos printed on canvas, textiles, cut and sewn
view of the table in the Borgerstraat studio of Julie Muller during the Open Studios there, during Art Rotterdam 2020
Julie Muller asked me to work together for the Borgerstraat Open Studios 2020 on an artist dialogue on the work of Anna (Verweij-Verschuure) who died young in 1980, who was one of the women artists working conceptually with textile, and who inspires me enormously since my art school days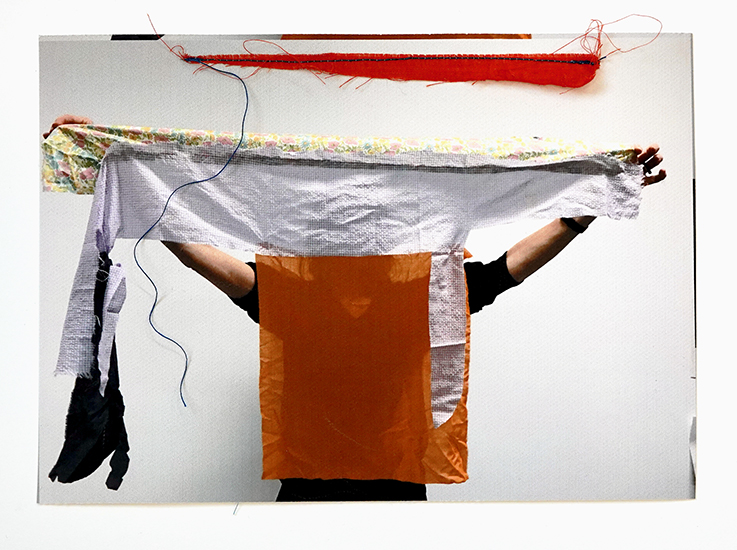 We decided to spend regular studio days together - this was special for me as before, we never collaborated with each other and were not even friends (yet)
Julie Muller is an autonomous fashion designer who works both conceptually and context-specifically (ao on projects in collaboration such as ETWAS with Jip van der Hek). Julie Muller is - like me - a tutor at the Willem de Kooning Academie Rotterdam
In Julie's studio, we decided on a working process starting from both our collections of textiles:
left-overs from collections / pieces of our individual practices, or textiles we received via our parents as a form of textile heritage.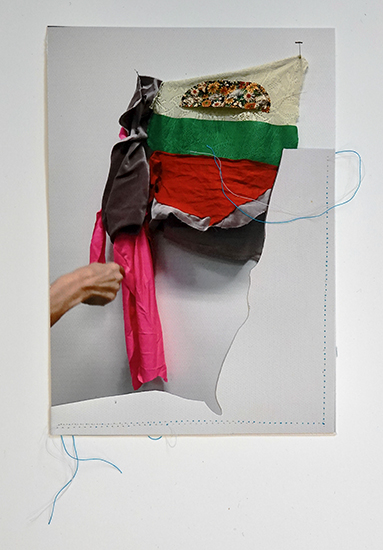 Our self-imposed rules were simple: not to cut the textiles, but sew, knot, layer, connect.
This way, we created a series of 'gebruikssculpturen' (usable sculptures). By capturing the gestures of handling and responding to each other's works, we created new, photographic images. These were printed on canvas in the WdKA print station and then folded, cut, sewed textile in/on the photos, etc - again photographing the process and repeating this.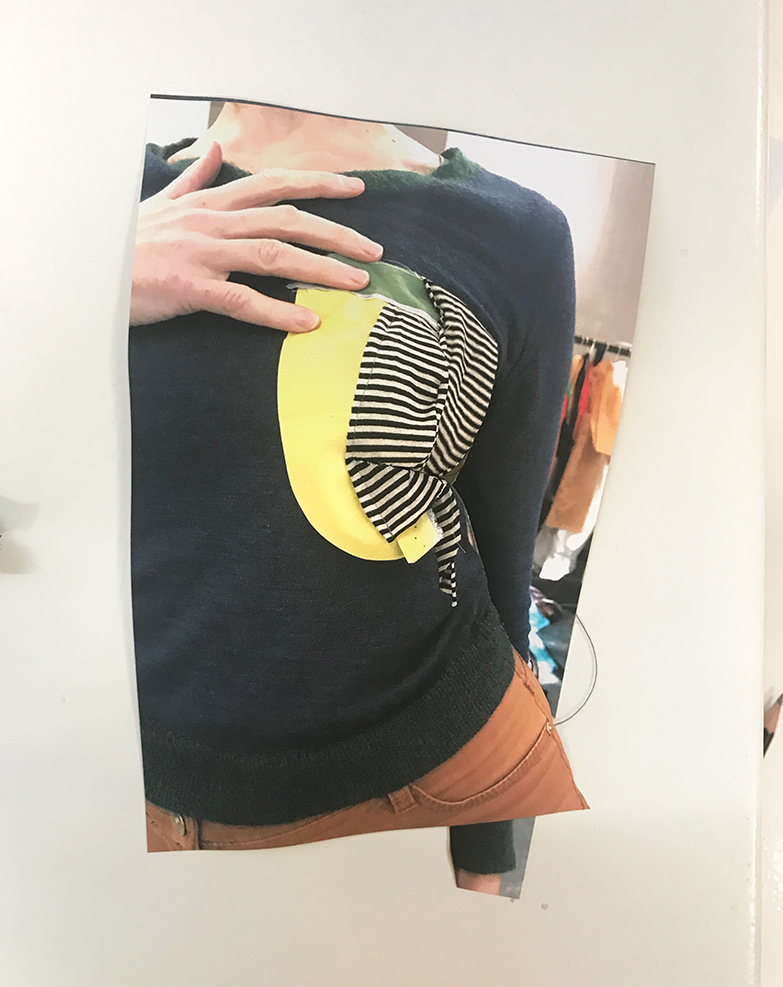 The result was hundreds of small A5 works, for sale for 35 euro each.
Unedited prints were available as part of the Borgerstraat Open Studios publication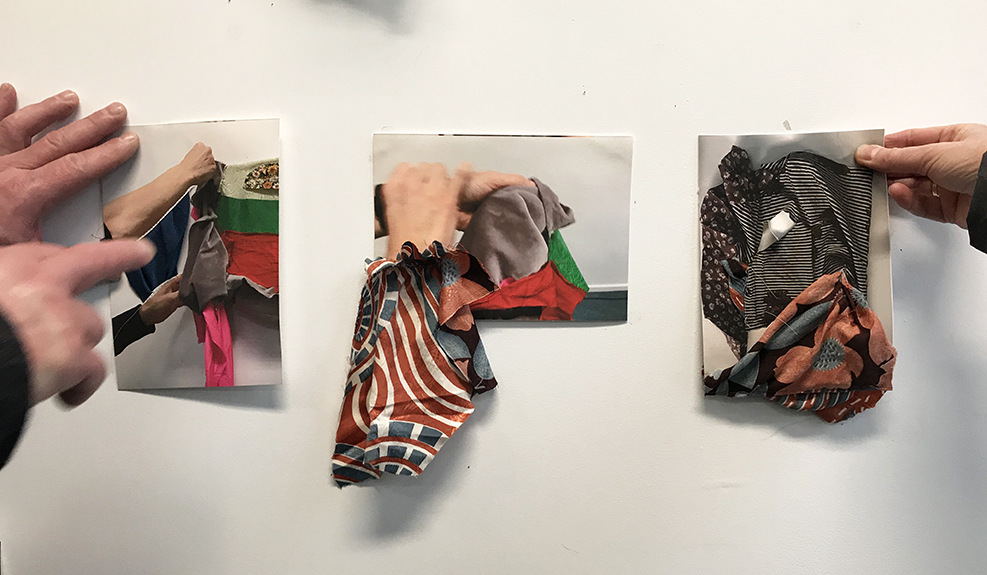 Many many may were sold, as the visitors (mostly artists themselves) could not resist and sometimes even bought a few…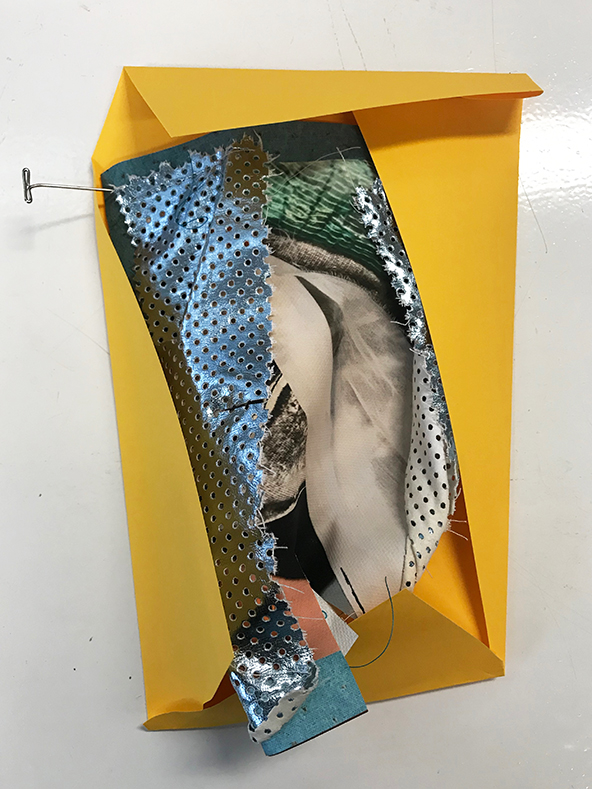 Each print that was sold was numbered, listed and wrapped
As last step, but Julie and me each selected a number of photos to be printed arge format, and we each made our personal 'final edit' with these; see my 'AAN double/cross' 2020
other collaboration works: 'WAT IS TUSSEN ONS' 2009 (with Ties ten Bosch) / 'Stories To Tell Each Other' 2010 (with Sae Inukai) / 'Instruction.Sculptor.Sculpture' 2011 (with Renée Kool) / 'He Who Travels / Traverse' 2011 (with ao Piet Rogie) / '…abordons un sujet délicat' 2018 (with Renée Kool) /